Developer note, in December

Hello everyone!
This is Xernis, the developer of <Zelter>.
As we shared in November, we conducted the FGT (Focus Group Test) in December. I was truly happy and grateful to be able to receive your valuable opinions and feedback through this test.
Based on the opinions we received from the testers, we are accelerating development processes with the goal of completing the "Mission Mode" we presented in FGT as quickly as possible and updating it live. In addition, the build used for the test is uploaded to Steam's beta server, so that everyone who purchased Zelter could enjoy it.
This month, we would like to share some additions and changes we made based on your feedback and directions for future development through developer notes. As a long time has passed since the last update, we will do our best to accelerate the updating process.
■ Added tutorial mode
We received a lot of feedback from testers that it was difficult to understand operating methods and guidelines from time to time while playing the game,
If it was difficult for those who are already familiar with Zelter, we thought that it would be even more difficult for new users to adapt to the game, so we decided to add a tutorial mode.
■ Added new melee weapons
In this test, we got a lot of feedback that melee weapons were too weak. So we decided to add useful melee weapons for battle.
< Added 2 types of baseball bats >
Nailed Baseball Bat: A must-have item needed when fighting zombies.
Metal Baseball Bat: Need a stronger bat?


< Added 2 types of slingshots >
Wood Slingshot: You can now use surplus boulders to instantly attack.
Iron Slingshot: You can now use iron shards to instantly attack.


■ Added resource decomposition tool
One of the feedbacks we got a lot from the test was that we should come up with a way to deal with unnecessary resources. By adding the [Mineral Smelter], we are developing ways so that basic resources can be recycled.

■ Added special equipment
Based on the test feedback that 'the merits provided after rescuing survivors are weak', we are planning to grant special passive stats by providing 'special equipment' whenever we rescue survivors in the future.
Through these changes, you will be able to enjoy new experiences and various survival strategies every time you play the game.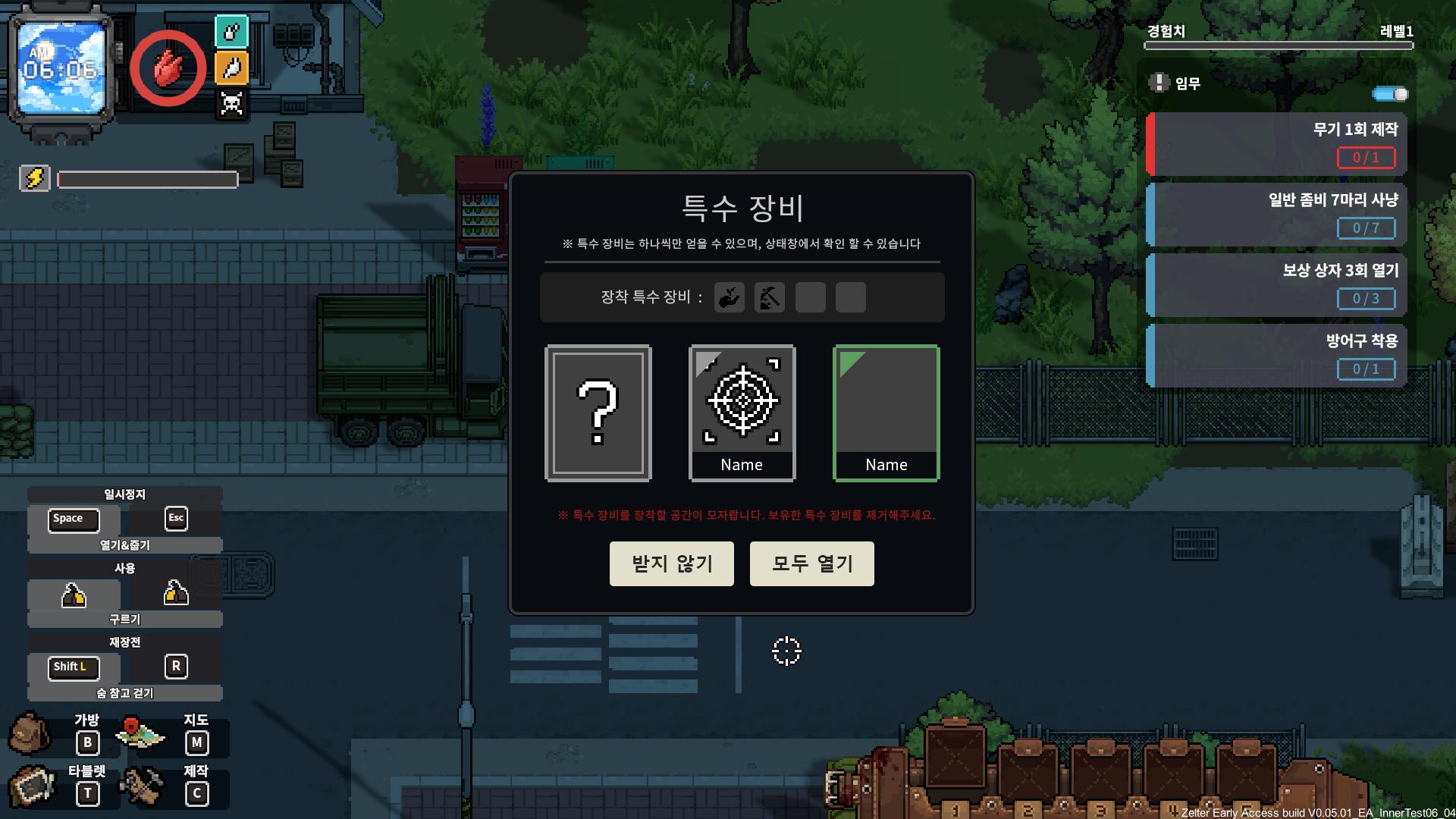 ■ Strengthen basic stats
Based on the test feedback that it is difficult to feel the effect of the basic abilities, we want to enhance the fun of farming and growing by strengthening the numbers as follows so that you can feel the speed of growth.
- Toughness (STR): Existing stats + Attack power increase
- Wisdom (DEX): Existing stats + Critical rate increase
-Intelligence (INT): Existing stats + Increases the attack power and durability of the defense facility you have created
■ Separation of <Mission Mode> and <Pioneer Mode>
The game method for this test was <Mission Mode>. This is a mode in which missions are performed within a set time, and the difficulty level gradually increases with time. In this mode, if the save function is provided, the difficulty levels may fall too much, so the save function will not be provided for now. However, we are aware of the considerable amount of playtime and the burden users feel due to this. So we plan to review additional measures to make improvements in this aspect.
<Pioneer Mode> is a mode that is under review for future updates, and it is a mode that allows you to grow your base in a relatively relaxed way rather than feeling tense. Unfortunately, this mode is not included in this update, and development will begin after the mission mode has enough content in the future. The save function will be provided in this mode.
By providing two modes like this, we proceed with our development work so that users can enjoy Zelter even more.
We will continue to accept the opinions of users, listen to their feedback, and apply them in game development as much as possible. Your interest, support, and constructive feedback are a great help to our developers.
We look forward to seeing you again with good news.
thank you.
Best regards,
G1 Playground